Tickets
In an unprecedented time across the globe, we must adapt and overcome. Enter "No Parking On The Dance Floor".
No Parking On The Dance Floor represents the beginning of a brand new event series centered around creating a safe place to enjoy live music that we all love during a time where we must remain socially distant.
Disco Donnie Presents is excited to be at the forefront of this brand new innovation for live events!
Guidelines
ALL VEHICLES ARE SUBJECT TO SEARCH.
The event is 18+.
Music will be played through the radio. Tune into FM channel 89.9.
You must always follow local traffic laws, this includes open containers of alcohol.
All cars must be turned off once you are parked. You are allowed to turn on your car for short periods of time to prevent your car from dying.
We require all guests to wear a face mask when outside the vehicle. No exceptions.
Each vehicle must have a parking permit and a minimum of 2 people in the vehicle. MAX OF 6!
Everyone must have either a driver ticket or passenger ticket All tickets will be scanned before entry.
Speed limit is 5 MPH.
NO HONKING. Please respect those around you.
Do not park in the walkway, designated by the lights.
Please do not sit on the top of your vehicle.
Leave the space as you found it. No trash should be left behind for any reason!
MAX of 6 people allowed. No RV's, campers, buses, or box trucks. Your party must not exceed the legal capacity of your car. Everyone must have a seatbelt.
NO outside food or beverages allowed. Please use the on-site concessions stand.
NO uber/lyft drop-offs will be allowed. Everyone must arrive in a vehicle with a parking permit and ticket.
NO Fold out tables (yes that means no beer pong).
NO Speakers (car speakers only).
NO Pop up tents.
NO Generators.
NO Lights, Fog Machines, or Lasers.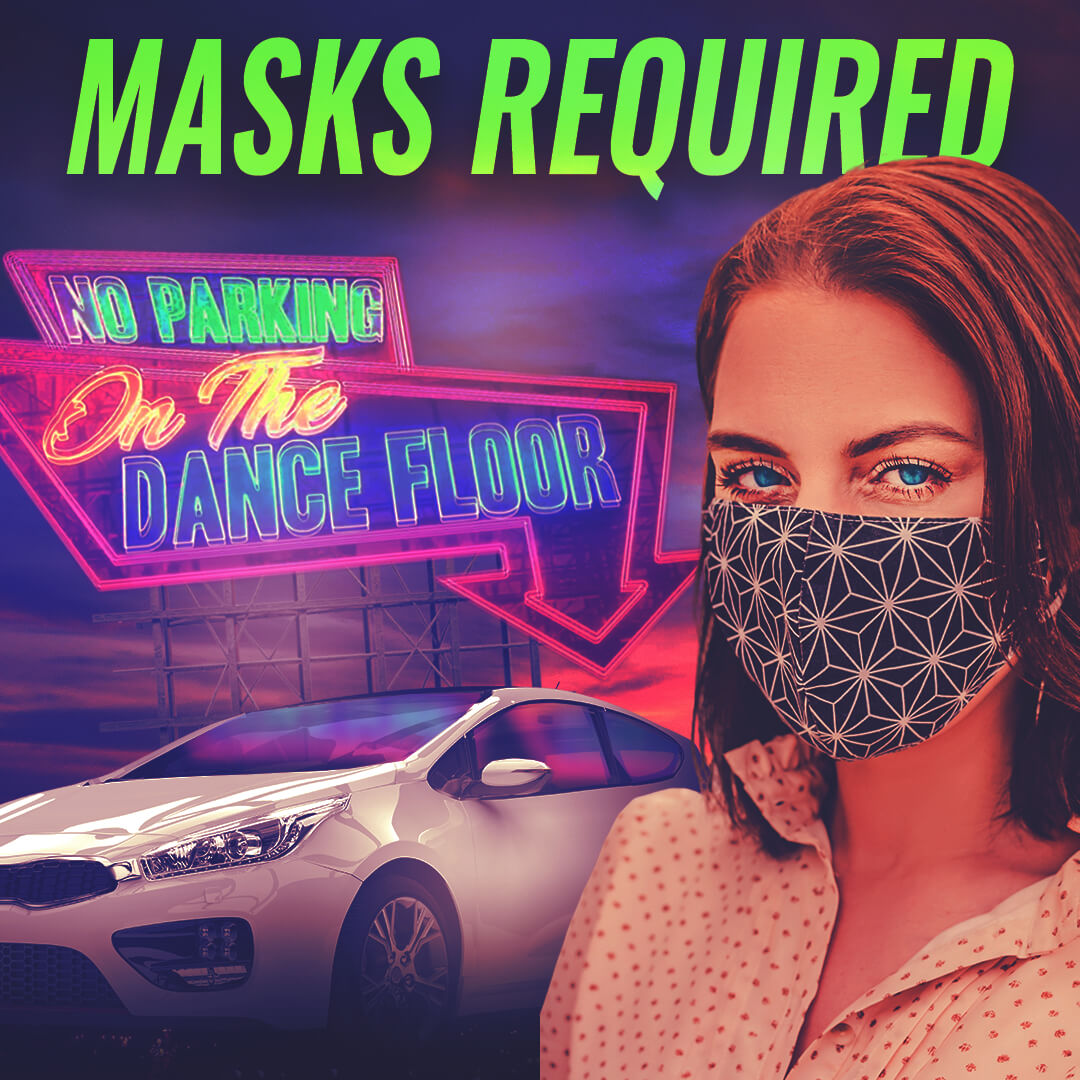 Mandatory Mask Check Notice
Masks are required at all times when outside your vehicle. There will be a mandatory "mask check" upon entry. If you do not have a mask, you will be restricted to the inside of your vehicle, or you may go get one and come back. No exceptions.
Etiquette
The Admiral has graciously allowed us the use of their space. We kindly ask fans for their help in respecting the space, as Drive-Ins are a new event format for the dance music community and we want to make sure all of us can be invited back.
Please leave your parking space as you found it. Pack it in, pack it out.
Please do not drive under the influence. If no one in your vehicle is able to drive, please notify a staff member.
Please follow all on-site social distancing protocols. Wear a mask, and use social distancing lanes. This is for your safety and the safety of event staff.
This is a new event format. We believe you will get out of this event what you put in. Let's have some fun together. We'll bring the music, and you bring your vibes. We encourage participation and creativity. Here are some ideas to get you started:
Decorate your car. Let the world know you're heading to the drive in rave!
Bring a totem so your friends can spot you from afar.
Have a classic (socially distanced) tail gate party.
Tag your quaranteam on social media and use #Quaranteam
Always Remember: PLUR
P ractice social distancing.
L ook out for each other.
U se air hugs not real hugs.
R espect the rules and guidelines put in place.
FAQ
What time should we arrive?
Gates open at 7:00 PM day of show. Please arrive early as it will take time to process each car.
Will there be restrooms?
Yes, we ask each guest to bring a mask and wear it at all times when you leave your group. There will be security monitoring the bathroom & the lines to ensure social distancing is observed. Bathrooms are disinfected every 10 mins by staff.
Are we allowed to be outside our vehicle?
Yes but you MUST stay within the width of your vehicle. You can not dance or group with anyone outside of your vehicle. We will have staff monitoring for social distancing, please follow their instructions. You will be asked to leave if you do not comply. We are all in this together, be safe and be smart.
Will you have concessions?
Yes, concessions will be open and there is no outside food allowed. Please maintain social distancing when standing in line for concessions.
Will merch be available?
Yes, merch will be available near the concessions area. All mask, and social distancing rules apply when visiting the merch booth.
Contact
Still have a question? Contact us anytime with a quick message.